Woodpro Cabinetry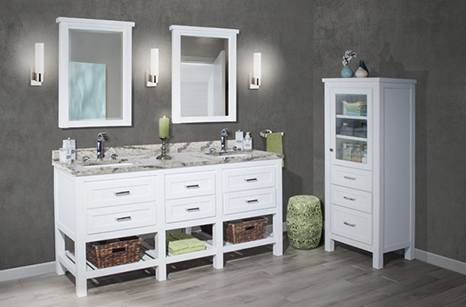 style
Want to get the look just right?
Choose from 20 style collections, then customize by color, door style, and more.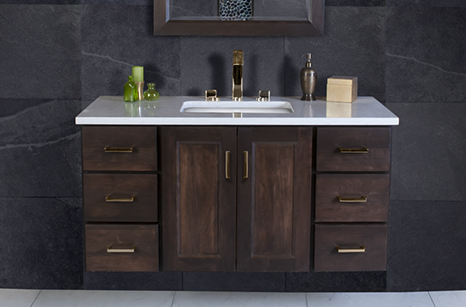 space
Have a small, large, or unique space?
We offer models and options for bathrooms of all shapes and sizes.
storage
Sick of clutter?
Simplify your life with our remarkable selection of bathroom storage solutions.
Collections range from traditional to modern, and everything in between.
Select from 60 paints or wood stain colors.
Choose a standard base, wall mount, or the leg style that works best for you.
Our vanities start as small as 18 inches wide and go up to 96 inches wide.
Get the perfect fit. We offer vanities in 3-inch increments from 18-48 inch widths and 6-inch increments for 48-96 inch widths.
We offer lots of layout choices, so you get the right number of doors and drawers for your needs.
Choose special storage models or options that fit your life - from a hair care station, to a rollout hamper, to an electronic docking drawer.

Founded in 1977, Woodpro Cabinetry brings premier, custom bathroom cabinetry to customers across North America. Our commitment to craftmanship and American manufacturing ensures a quality product.
Woodpro's success comes from developing and trusting our people to do the right thing. When our respected and motivated Woodpro team is combined with our focus on customers, then clearly, the customer is the winner. Woodpro manufactures cabinetry in one of the industry's fastest cycle times using Lean manufacturing concepts to assure consistent product quality. With the Woodpro Quality-On-Time (QOT) System, special orders can be produced and delivered in the same quick cycle as stock cabinetry. The system must be working since our fill rate has averaged over 99% since 1993.
Values
Integrity.
We do what's right – for our customers, partners, employees, and the environment.
Accountability.
We do our very best and take responsibility for our actions and our inaction.
Trust.
We create trust by treating people the way we'd like to be treated.
Mission
To bring Personalized Bath Cabinetry, produced and delivered on-time, to homes across North American —- by use of lean operations, efficient systems, continuous improvement and a clear focus on customers and teammates.
Vision
To make to order and deliver Personalized Bath Cabinetry in 10-14 business days after our customer's order cut-off day — and to do so with less than 1% backorders and less than 1% quality and shipping damage returns.