Bedford Collection
Tri-View Surface Mount Mirrored Cabinets with and without Lights
Construction Features
Mirrored Cabinet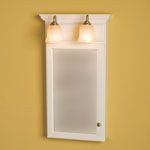 Ends of Cherry, Cherry Rustic, Maple and Oak are 1/2" thick and have a wood veneer face and back with a smooth and voidless MDF cross band next to the face and back veneers which improves the veneer surface for mirrored cabinets.
Hinges are concealed self-close with 110 degree opening.
All cabinets have two adjustable shelves. Shelves are 1/2" (5/8" for 48" Tri-View Shelves) Birch veneer core plywood with a Birch strip applied to the front edge.
Surface mount mirrored cabinets have 1/8" mirror and a 1/8" Maple laminate hardwood back on doors.
Tri-View mirrored cabinets have 3/16" plate mirror (not beveled) with a protective vinyl backing.
Surface mount mirrored cabinets can have lights built-in. The lights have features as outlined under "Bath Light Features".