Youngstown Collection
Laundry Room Wall Cabinets without Crown and Sill
Construction Features
Toilet Topper and Wall Cabinet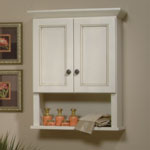 Hinges are concealed soft-close with 106 degree - 110 degree opening.
All Toilet Toppers and Wall Storage Cabinets have two adjustable shelves.
Ends of Cherry, Cherry Rustic, Maple and Oak 1/2" veneer core plywood includes a smooth and voidless MDF cross band next to the face and back veneers which improves veneer surfaces.
Bottom sill adds 1" to width and depth.
Laundry room wall cabinets do not have a crown or a bottom sill.